April 7
Chinese badminton ace Lin Dan clinches Malaysia Open 2019 in Kuala Lumpur.
April 8
Registration for Kailash Manasarovar Yatra 2019 begins; Yatra is scheduled from 8th June to 8th September this year through two routes. The last date for registration is the 9th of May.
April 9
BJP MLA Bheema Mandavi and four security personnel killed in Maoist attack in Dantewada district of Chhattisgarh.
April 10
Election Commission stalls release of PM Narendra Modi biopic till the end of elections. Earlier, Supreme Court had dismissed petition seeking stay on release of the biopic.

New Zealand Parliament votes to ban all types of semi-automatic weapons and assault rifles following Christchurch attacks.

British Prime Minister Theresa May says, 'The tragedy of Jallianwala Bagh in 1919 is a shameful scar on British Indian History. We deeply regret what happened and the suffering caused'.

Scientists reveal the first ever image of a Black Hole. It was captured by the Event Horizon Telescope project.
 April 11
Wikileaks co-founder Julian Assange arrested at Ecuadorian embassy in London.

Polling held for first phase of Lok Sabha elections. Simultaneous Assembly elections held in Andhra Pradesh, Sikkim, Arunachal Pradesh and Odisha. In the image below: world's shortest woman Jyoti Amge (25), shows her finger marked with indelible ink after casting vote at a polling station in Nagpur.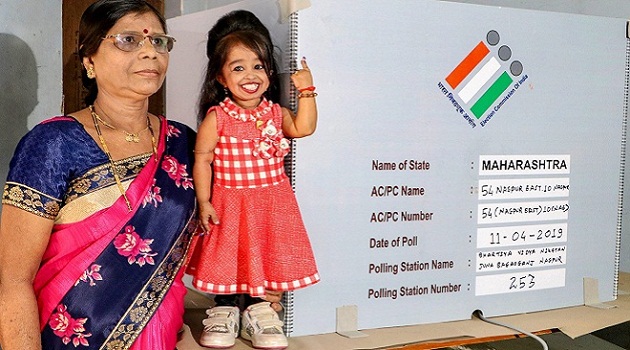 April 12
Supreme Court directs political parties to furnish details of electoral bonds and donors identity by 30th of next month.