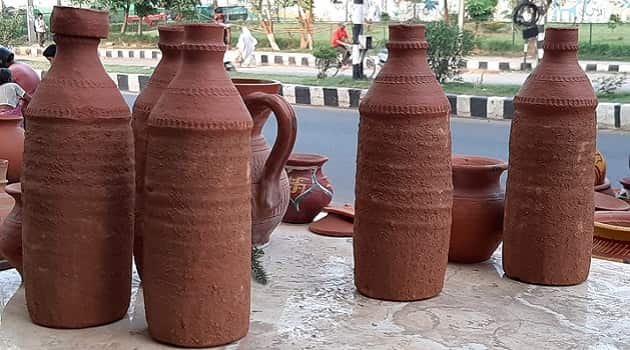 Don't get surprised if you see somebody taking out an earthen water bottle at a time when plastic or metallic thermostatic bottles are a common sight.
Notwithstanding the easy to handle electronic appliances like refrigerators, coolers and air conditioners, the love for earthenware being used as desi water cooler since ages, has not vanished.
Earthen pots are not restricted to domestic use only. They are also trending good in the purchases of corporate offices.
In keeping with burgeoning demand of earthen pots, outlets in Patna have come up with a variety of earthenware of different sizes and of different utilities.
The water pot, which ranges from Rs.200 to Rs.650, is the most sought after stuff to cool water in a natural way.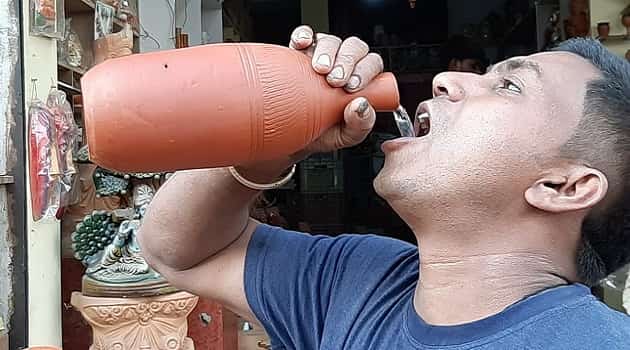 Earthen water bottles, which are the latest addition to the otherwise tradition market, are also in high demand in humid conditions.
"Earthen water bottles are available with price tag ranging between Rs.100 and Rs.250. Earthen water jugs and glasses, other new additions, are also selling fast," said Rupesh Prakash, a salesman at Nature's Home, a retail outlet of earthen pots near Rajapur Pul in Bihar's capital city.
Gudiya, a clay potter near Aashiyana More in Patna, says, "Though earthen pots are sold over the year, their demands usually go up from April onward. We have to prepare the stock for four months in advance. Every day 20-25 pieces are sold. However, pots with tap at their bottom are preferred more than the tradition ones, as people find it convenient to use.
Clay bottles are more in demand among the school and college students because they have become a latest fashion statement among youth.
Prity Kumari, a student of Magadh Mahila College, said: "I was doubtful when I bought one-litre earthen water bottle, lest it might break or would not hold water cool for longer time. Later, I realized my perception was wrong. I am impressed with it and recommend it to my friends too."
Abdhesh Jha, a yoga expert, also recommended the usage of nature-made utensils for healthy living.
"Modernisation has changed eating habit of the people. Now, the essence of indigenous products has ceased to exist. Earthen pots are made up of earth, which is one of the elements of the human body. It provides natural energy derived from the environment. The refrigerator might yield chilled water, but consuming it has an adverse impact on intestine and digestion system," he said.
Shashank Shekhar, a food stall owner near Saguna More in Patna, also prefers using earthen pots. "They are the cheapest and easiest way to stay cool during summer and also a way to stay connected with nature. The earthen-pot water has a very satisfying taste and keeps mind and body peaceful," he said.
by Madhu Mishra
---
Find us on Facebook, Twitter, Instagram, Pinterest and LinkedIn. Click here to subscribe Raisina Hill newsletter.