Did BJP's East Delhi candidate Gautam Gambhir stoop so low, as alleged by Aam Aadmi Party national convenor Arvind Kejriwal, that he launched a smear campaign against his powerful opponent Atishi Marlena?
Contesting Lok Sabha election on the basis of providing access to basic amenities, Atishi, had entered the fray thrilled as her campaign raised Rs.70 lakh through crowdfunding, but then, she was suddenly found reading out a pamphlet – at a press conference – with obscene texts shaming her.
This happened just few days before Delhi voted on May 12 – in which press conference Atishi broke down reading out the deplorable contents of the pamphlet distributed along with newspapers in some areas in East Delhi parliamentary constituency.
Though Congress had also put up a candidate in the constituency, it kept a studied silence while everyone accused former cricketer Gambhir of running this smear campaign against Atishi.
Let's analyse the situation
The job of an analytical mind is a tough one. Not because it has to break the problem into smaller chunks to find appropriate solution, but because it has to strip the problem of its chicanery in order to read the real issue.
This is precisely the situation in Atishi Marlena versus Gautam Gambhir case. One may think it's a political battle until those deplorable and unutterable pamphlets, demeaning Atishi surfaced.
After Aam Aadmi Party (AAP) directly attacked Gautam Gambhir of Bhartiya Janata Party (BJP) for allegedly circulating the derogatory pamphlets, Gambhir said he would hang himself if the allegations are proven to be right, which is so typical of anyone who belongs to BJP.
Remember Sushma Swaraj vowing to shaving her heard if Sonia Gandhi became prime minister or Smriti Irani chopping off her head and presenting it to Mayawati on Rohit Vemula's case.
In the present case, to be purely analytical is a tough act, which has to be achieved to ensure a fair treatment of the situation. This is an important episode in the new lows of Indian politics, which should not be missed.
The analytical mind's curse is that it has to strip down the 'whodunit' into – (i) BJP was involved in this misadventure, (ii) AAP fired this bullet, (iii) Third party is involved.
Is BJP the real villain?
To accuse any person, one needs evidence. AAP has not offered a shred of evidence that links BJP's Gambhir with this, except for the full blown-emotional press conference by AAP leader Manish Sisodiya sitting next to Atishi.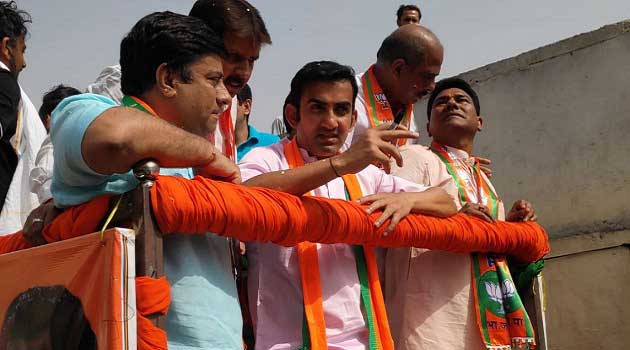 Will Gambhir not think twice that this ridiculous anserine step will cost him the maiden political voyage and his reputation as a remarkable cricketer? Will he be so duncical to pull a stunt like this?
It can be argued how misogynist BJP is but even then would it risk the character of the organization for a single seat? The answer can be yes given that the only motto of BJP is winning at any cost.
BJP has transformed itself from an ideological party to an election-winning machine. Particularly this time, BJP's only target is Nehru-Gandhi family, not even the Congress party. Wasting its resources on AAP let alone Atishi is not a part of BJP's agenda. The election campaigns are a proof of this.
Even at the height of a vitriolic campaign calling a woman prostitute, concubine is not a gamble a national party will engage in. Prime Minister Narendra Modi will not risk his image for a single seat. Modi has a fan following among women and risking his national image for East Delhi seat is an idea far-fetched even by his standards.
Is AAP behind this?
Let's explore the possibility of AAP doing this in order to generate sympathy among its voters to vote for Atishi.
The press conference conducted by Atishi and party colleague Sisodia was unsettling. It was cruel by all standards.
A woman is reading out a pamphlet, which derides her character brutally. She is in tears and still prodded by Sisodia to go on.
At a point, when she can no longer continue, the pamphlet is taken by Sisodia who reads it aloud with Atishi still being present there.
If this is not cruel, what can one say about this? First, she is bullied via a piece of paper. When she cannot tolerate the ordeal, Sisodia – in the garb of a Good Samaritan – makes sure that she goes through the entire ordeal.
There was absolutely no need to read out the pamphlet. Why then create an environment of sympathy for Atishi and present her as a crusader for public who continued her fight despite the derogatory remarks hurled against her by privileged men.
For Atishi to win this election, it was necessary to bring the swing votes in given the fact that BJP had roped in a poster boy against her. Perhaps sympathy wave was an idea to fulfil this swing.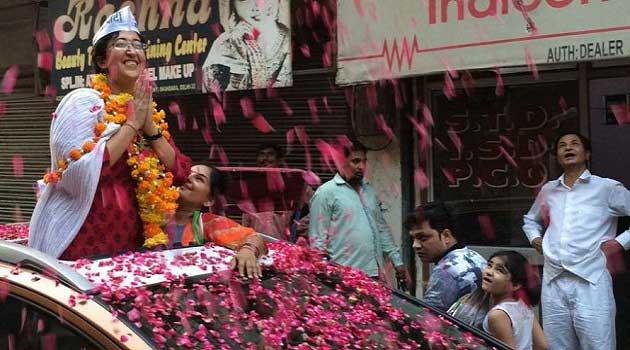 This can be one of the possibilities. If this has indeed happened, India needs to stop and think. This is a pathetic state of mind, which is working only to win.
After 72 years of independence, our politicians have clearly forgotten the morals, which run politics. Worse still is that a woman was convinced by her own party to fight on a piece of paper which clearly assassinated her character in the worst possible way.
Why did Atishi agree to be a weapon in the hands of men? Is this the empowerment that we as a nation are looking for our women?
Who else could have done it?
The third angle possibility is ruled out because no one would like to venture in a situation which involves the dignity of a woman. Remember the controversy when doctored videos of JNU surfaced? Until date, there is no action taken against those who doctored those videos.
This is a dangerous trend. In days to come if strong action is not taken against those who plot such vicious campaigns, the tone of our political conversation will not just reach new lows (as if it already hasn't) but also create a chaos in the polity where anyone can take down anyone through use of malicious message on a piece of paper or doctored videos.
We are using women as tools to bring down our opponents, how medieval is that? Our women instead of standing up for themselves are happily subservient to the plot, which uses them as a weapon. How is this empowerment? This is not just a wake-up call but an emergency call, which we must answer before our polity hits new lows.