On Women's Day, how do you compliment your wife who is also your colleague?
Do you say, 'You're beautiful'! Do you praise saying, 'You're an incredible mom', or sing something like – 'You inspire me to be the best partner I can be!'
Dr. Maroof Siddiqui of Advanced Homeopathy, Allahabad, has his wife Dr. Mili as his co-doctor at the clinic.
This Women's Day, he turned into a poet, jotting…  "You are not alone, You are limitless; You are the Universe, You are a woman."
Further, he sent this message to all members of the clinic, as a tribute to his wife, his colleague, his co-doctor:  "Dr. Mili at the Advanced Homeopathy, with her dedication, personal care and efforts has helped in saving lives and restoring the health of patients across the globe."
"The willingness to listen, the patience to understand, the strength to support, the heart to care and to be always there, that's the beauty of Dr. Mili, as a lady doctor," he wrote.
On the occasion, Dr. Maroof said, "Let's remind every woman to be healthy, let's empower women with freedom from diseases."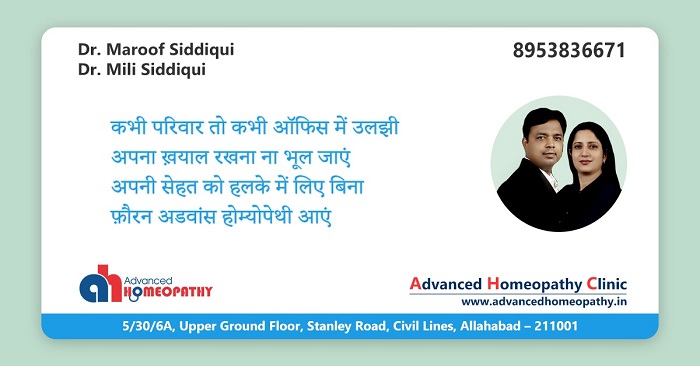 According to Dr. Maroof, for every medical condition in women, homeopathy offers holistic treatment with minimal side effects.