Has India committed a blunder in Nepal? Is Nepal championing on anti-India nationalism?
If answers to these questions are in affirmative, one may be afraid if India's diplomatic acumen is being put to real test in its neighbourhood.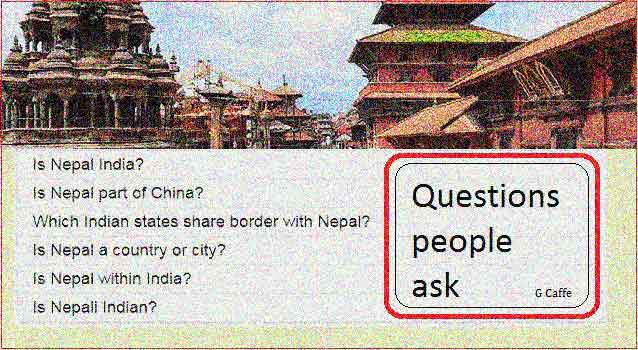 After Pakistan, Maldives and Sri Lanka, India seems to be at loggerheads with Nepal.
In a latest, Nepal has denied to be a part of the joint military exercise by members of BIMSTEC (Bay of Bengal Initiative for Multi-Sectoral Technical and Economic Cooperation).
At the same time, Nepal is participating in a 12-day long military exercise with China. This speaks volumes about India's diplomatic failure in its neighbourhood.
Of course, it is our neighbour's right to decide for themselves and we have no right to interfere in their internal affairs. But, diplomacy is the vehicle to achieve foreign policy goals of maximizing the national interests.
---
Occasions when India under the present political dispensation seems to have mismanaged affairs with Nepal –
Constitutional Promulgation of Nepal in September 2015 when it decided to be secular and failed to address Madhesi's concerns;

Subsequent protests by Madhesi community for a fair share of power in the constitution which led to consequent blockade of supply routes to Nepal;

Nepal's accusations on India for the blockade;

Elections both for the union and provincial legislatures of Nepal when there was a sweep in favour of Left parties; and

Nepal's refusal to participate in the BIMSTEC multilateral military exercise near Pune.
Undoubtedly, this shows Nepal's strategic drift towards China and away from India.
---
What are the main reasons for the drift
India's calculations have gone wrong;

India ignored the elections in Nepal as it was too busy in Gujarat and Himachal elections;

India seems to have lost faith and trust of Nepal as it resorts to more rhetoric than reality in bilateral relations as it is too slow to deliver its promises to neighbours;

India's pocket is not as deep as China; and


India's continued opposition to Belt and Road Initiative of China without pushing hard for its own alternative.




---
China's growing footprints versus India's diplomatic failure
India's foreign policy makers need to pull their socks up and devise means to convince Nepal that their future lies with India as China's friendship is more strategic and self-oriented than India.
Economic projects should be entrusted to private sector Indian companies over public sectors to mitigate its negative image on this count.
India has rightly attempted to revive BIMSTEC as it has greater potentials for legitimacy and success as a regional forum vis-a-vis SAARC which has acquired a new dimension.
SAARC erstwhile was hostage to Indo-Pakistan rivalry and now it is turning out to be a Sino-Indian battle turf as China is campaigning through Nepal and Pakistan for full membership to it.
India has always considered South Asia to be its sphere of influence and is not comfortable with Chinese overtures in the region.
---
Fact and Figures
As close neighbours, citizens of India and Nepal share a unique relationship of friendship and cooperation characterized by open borders and deep-rooted people-to-people contacts. There has been a long tradition of free movement of people across the borders sharing family ties and culture. Nepal shares a border of over 1850 kms in the east, south and west with five Indian States – Sikkim, West Bengal, Bihar, Uttar Pradesh and Uttarakhand. The India-Nepal Treaty of Peace and Friendship of 1950 forms the bedrock of the special relations that exist between India and Nepal. Under the provisions of this Treaty, the Nepali citizens have enjoyed certain advantages in India, availing facilities and opportunities at par with Indian citizens. Nearly 6 million Nepali citizens live and work in India. The Gorkha Regiments of the Indian Army are raised partly by recruitment from hill districts of Nepal. Currently, about 32,000 Gorkha Soldiers from Nepal are serving in the Indian Army.