'A glacier is a moving river of ice', I remember reading in my Geography lessons in school. Well, they meant nothing then as I had simply crammed this definition without bothering to probe further.
It would be several years later at the Jawaharlal Nehru University that I got my maiden opportunity to get up-close to these massive wonder of nature, across several locations in the Himalaya. To some of these locations, I trekked – like several of my contemporaries – courtesy the JNU Mountaineering Club.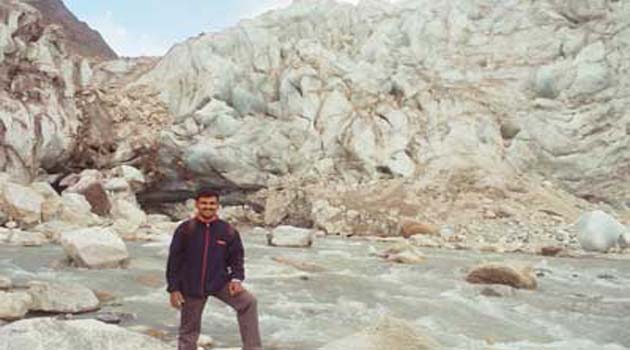 A little time from now, the summers will set in the upper reaches of Garhwal Himalaya. See, if this photograph of 'Gomukh' the snout of the Gangotri glacier, appeals to an inner calling lying [dormant] within us all!
The solid rocks of ice in the background have a tinge of blue while the glacial stream below is actually the Bhagirathi River. The sound of gushing water here makes it difficult to hear anything else and touching it for long is good enough to send a shiver down your spine!
You can also climb and zig-zag your way through the glacier-moraine to reach 'Tapovan' which is the base camp of 'Shivling' peak.
Several tributaries join the Bhagirathi, which finally becomes the Ganga in Haridwar, when it enters the plains after a long journey in the mountains.
---
Till Gangotri [10,000 ft approx], you can reach by bus, private taxi or your own vehicle, within 24 hours from Delhi, the Indian capital city. From there, it is a moderate trek [along with family] upwards, over two days to Gomukh, through the Gangotri National Park.